4ft storeWALL Standard Duty Wall Storage Panels (Case)
4ft storeWALL Standard Duty panels are sold (4) panels per carton, with each panel being 12 inches in height.  This will provide 16 sq. ft of coverage per carton.  An easy example... if this carton were installed in one area, you would have a rectangle 4ft wide x 4ft tall.


storeWALL Standard Duty panels feature a standard 3/8 inch slat/slot.

Easy Installation is accomplished via storeWALL's  InstallStrip (sold below) and installed on the wall surface using your #6 screws. Each 4ft panel uses (1) InstallStrip or (4) InstallStrips are used per carton.  Be sure to order the proper InstallStrips (Standard Duty) as they are different  You can also use storeWALL color-keyed screws and fasten each panel from the front directly to your wall surface.  Figure about 1 boxes of screws per 3 cartons of 4ft panels. 
Panels are available in your choice of 7 designer colors and wood grains shown below. Graphite Steel is a unique metallic surface treatment, very similar to that found on an automobile. The substructure is solid PVC as are all storeWALL wall panels. Please note the metallic effect is only on the surface and if gouged deep enough, just like an automobile, the gouge may show. Thus we encourage reasonable care and handling be exercised when choosing our Graphite Steel.
Our Rustic Cedar and Whitewood finishes are intended to simulate real wood; and like real wood there might be some variation in grain and tint from panel to panel.
There are no shipping charges for storeWALL panel shipments, ever!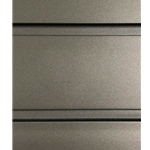 SW-4FT-SD-GS
SW-4FT-SDGS
22.00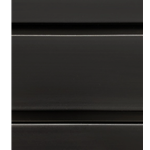 SW-4FT-SD-BLK
SW-4FT-SDBLK
22.00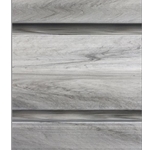 SW-4FT-SD-BAR
SW-4FT-SDBAR
22.00
---
Customer Reviews