Diamond Plate Light Switch & Outlet Covers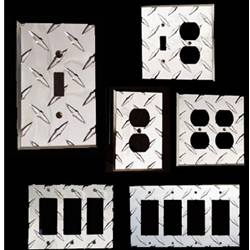 Our Diamond Plate Aluminum Light Switch and Electrical Outlet covers are a great finishing touch to your work area, garage, recreation/media rooms and kids bedrooms.

All of our covers are CNC-machined for the finest most consistent quality available. No bent sheet metal or pressed Diamond Plate here. Sharp lines, straight edges and precise corners are our difference makers.

Guaranteed to be flat, straight and dent proof. You can trust these covers in your most demanding environment to always look great.

All are bright Chrome plated, just as shiny as the bumper on a classic car. No polishing required and they are mirror bright. Available for 110v Outlet, traditional Toggle, Decora and GFCI styles including TV Cable and blank covers. 220v single phase and 3-phase covers are also available.

Need a custom layout you don't see? Select this link to send us an email and tell us what you need.
We also have a limited supply of Clear Anodize plates which is a matte Silver/Gray vs Chrome finish. Send us an email via the link above to inquire on the style you are looking for.