Medium Aluminum Hose - Cord Hanger
Use these Large Aluminum Cord - Hose brackets to make your garage or shop more organized and looking great. Large sizes can store your extension cord, rope, air hose and water hoses up to 75ft.
Two models to select from.  The Standard model and a Deluxe model which contains a 6in wide x 3in. tall built-in Storage Port for storage of attachments like Air Chucks, Pressure Gauges or Water Nozzles.
Need to mount it on storeWALL, HandiWALL-Slatwall, GearWall or Pegboard? Select the type of wall your going to be installing the dispenser on in the "Wall Type" dropdown  when adding to your cart and we'll include the correct Item Back Plate.  Default installation is fastening with a screw to a solid surface.
Dimensions: 6.5 in High x 5 in Deep x 8in. Wide    Natural Aluminum finish.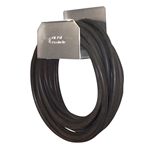 221
PIT-221-223
2.00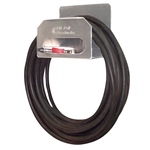 223
PIT-221-223
2.00
---
Customer Reviews